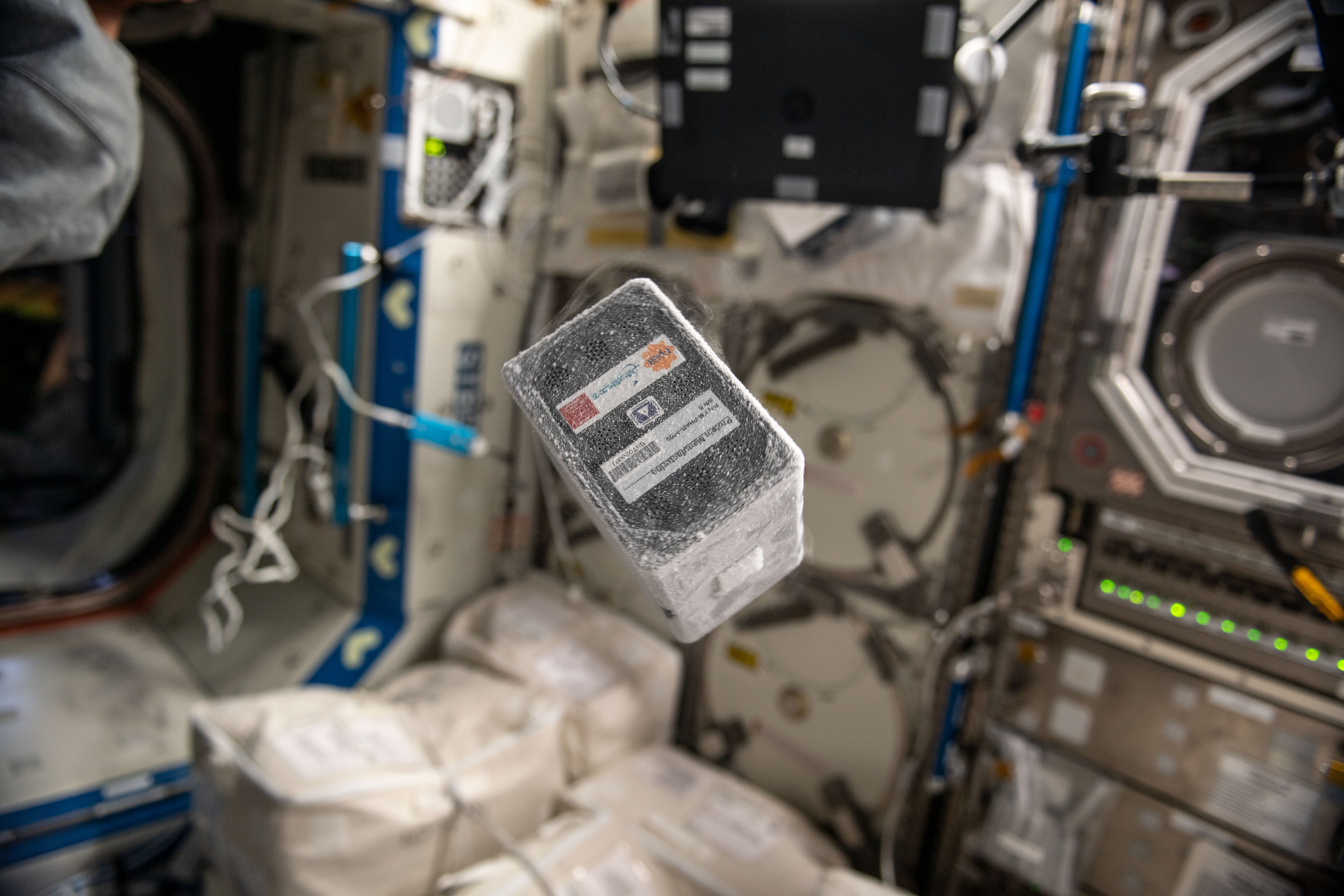 The Montana NASA EPSCoR International Space Station experiment from the 2020 grant floats prior to being installed by astronaut Jessica Watkins. The payload tested the growth of an edible fungus in a weightless environment. The project, led by Montana State University professor Ross Carlson, partnered with Bozeman company Nature's Fynd. Read the MSU news article here.
About Montana NASA EPSCoR
The NASA EPSCoR program is directed at those jurisdictions that have a small percentage of the NASA funding for competitive aerospace and aerospace-related research activities. Currently, 25 states, the Commonwealth of Puerto Rico, Guam, and the US Virgin Islands are eligible for NASA EPSCoR funding. Seven federal agencies conduct EPSCoR programs, including NASA. Montana NASA EPSCoR is part of the national NASA Established Program to Stimulate Competitive Research (EPSCoR) designed to establish partnerships with government, higher education and industry to effect lasting improvements in Montana's research infrastructure, R&D capacity and hence, its national R&D competitiveness. In addition to the research and technology development, awards enable faculty development and higher education student support.
The goal of EPSCoR is to provide seed funding that will enable jurisdictions to develop an academic research enterprise directed toward long-term, self-sustaining, nationally-competitive capabilities in aerospace and aerospace-related research.
NASA EPSCoR currently runs four programs. 1) Research Infrastructure Development (RID), which all jurisdictions have to support local seed-grant progrmas. RID is the only NASA EPSCoR program in which the home jurisdiction has the authority to award funds. The remaining programs solicit proposals that are reviewed and awarded by NASA HQ. 2) Research Group cooperative agreements; three-year $750,000 awards. 3) ISS and suborbital cooperative agreements; three-year $100,000 (ISS) or $250,000 (suborbital) awards for getting a payload to the ISS or on a suborbital flight. 4) Rapid Response Research (R3) cooperative agreements; one-year $100,000 awards for research that NASA specifically wants done.
Rapid Response Research (R3) awards
The R3 is a collaborative effort between NASA EPSCoR and the NASA Mission Directorate programs/offices. The goals of R3 are to provide a streamlined method to address research issues important to NASA, and to enable NASA EPSCoR researchers to work with NASA to solve research issues impacting the Agency's programs/missions. New solicitations are issued each year. Funding is up to $100,000 for one year. No cost share is required. Montana is allowed to put forward six proposals for each cycle.
Research Group Awards
NASA EPSCoR Research Group grants are awarded nationally each year. NASA allows only one Research Group proposal per jurisdiction. To down-select to a single proposal from all interested groups, Montana NASA EPSCoR holds a pre-proposal competition. Pre-proposals are reviewed by external experts as well as a panel of Montana university administrative-level stakeholders. All interested faculty groups at Montana institutions of higher education are invited to submit a pre-proposal.
Research Initiation Awards
Research Initiation grants are awarded competitively through internal and external review of proposals. Eligibility: junior faculty or faculty new to NASA research. Research Initiation grants are intended as seed money, are for one year of funding, and are not renewable. Awardees are required to submit a follow-on proposal to NASA for regular research funding during the year of the grant. Research Initiation funding can be used for graduate or undergraduate student support, materials and supplies, facility use fees, domestic travel, and faculty time (though this is not a funding priority). Contact us if you have questions on allowed costs.